Want to know more? See what's new for 2022 and learn how the results of these surveys can help your business. NAED hosted a webinar on March 2, 2022, which is now available here.
Reporting Bundles to Benchmark Finances, Operations, Warehouse Activities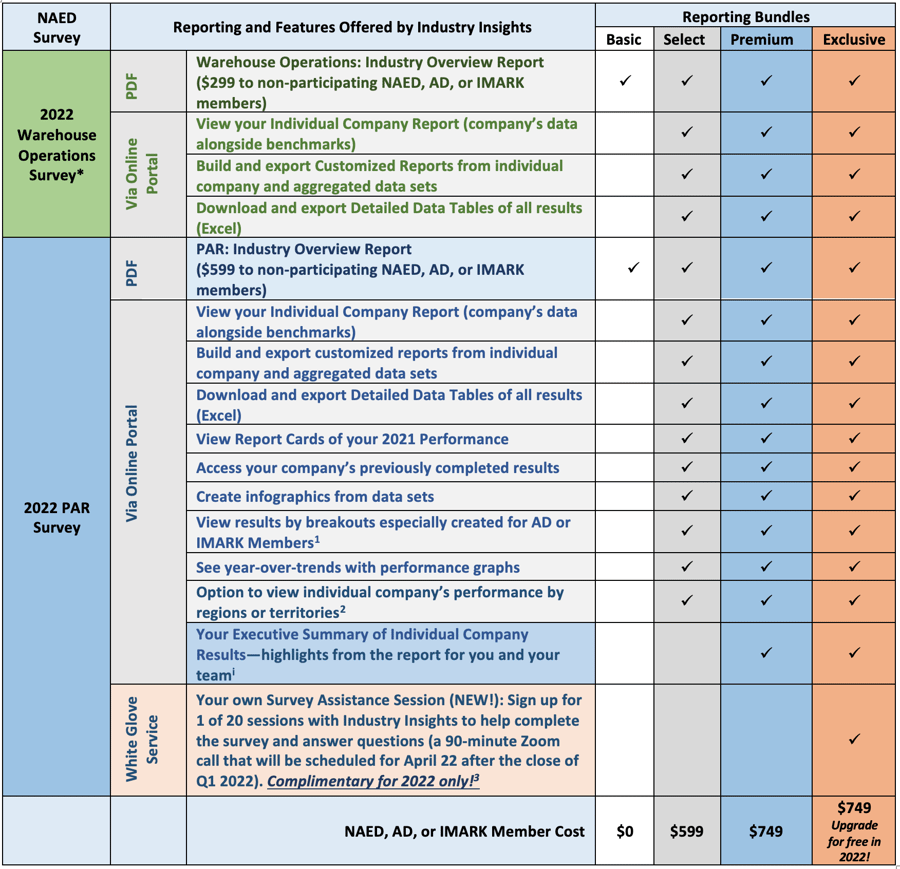 *Completion of both the 2022 PAR Survey and the 2022 Warehouse Operations Survey required for bundles
If you would like more information on the survey or reporting bundles, contact NAED's Member Engagement Team at  memberengagement@naed.org or visit  https://www.naed.org/par.
Participation is Simple
Survey questions are available via the secure web portal at  www.NAEDPARReport.com. There you can complete the survey online or download Excel or PDF versions to complete and submit to Industry Insights via the portal. You can also email or fax your completed forms to Industry Insights.
Reporting bundles require the completion of both surveys. If you choose to only participate in the PAR Survey the Individual Company Report (via online reporting tool) is $449 and the Executive Summary with personalized analysis is $159.
Who Administers this Survey?
Industry Insights is an independent third-party research provider who collects, analyzes, and compiles the NAED PAR Report. NAED will never see your individual financial data. Industry Insights has been serving trade and professional associations since 1980. They process more than 100,000 survey forms annually with the utmost concern for security and quality data collection. They guarantee your data will be held strictly confidential.
Surveys can be emailed to  Scott Hackworth, CPA, Senior Vice President.
The deadline to complete the survey is April 22, 2022.
1 Participants must indicate which Marketing Group they belong to (AD or IMARK only); results will only be reported for each respective group and must meet reporting thresholds
2 Industry Insights will provide help in assigning branches to regions for additional comparisons of operations
3 Free upgrade for 2022 thanks to our Corporate Partners