WHAT IS BUILDING A CONNECTED BUSINESS FOR THE FUTURE?
Building a Connected Business refers to the NAED Education & Research Foundation's resources that focus on the industry's transition to digital in response to new technologies and changing customer expectations.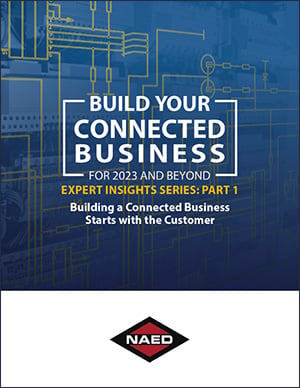 Build Your Connected Business for 2023 and Beyond inspired this series of five tED magazine articles that feature different perspectives from well-known industry experts on digital. They share their insights and examples on how to successfully drive these initiatives for your team and your customers. The five articles are:
Starts with the Customer (April 2023)
Data as the Conduit for Connected Business (May 2023)
Without a Culture Shift, There is No Connected Business (June 2023)
The Critical Role of the Website (July 2023)
What's Standing in Distributors' Way (August 2023)
Go to the NAED's Report Shop to download all five articles in one convenient PDF. Log in and your exclusive member discount will be given at checkout.
Learn more about expectations and how to best develop your company's strategy with Build Your Connected Business for 2023 and Beyond. This concise, 18-page guide features key takeaways and an updated roadmap based on the 2019 Frost & Sullivan study, Building a Connected Business. A short appendix also includes a framework of five business areas and related capabilities to consider for your company.
Download the PDF today by visiting the NAED Shop (NAED members must log in to receive special pricing which will be reflected at checkout).
The NAED Education & Research Foundation is dedicated to help members navigate the various aspects of digital transformation such as:
Automating business processes and operational practices
Integration of business intelligence tools and more data-driven decisions
Creating enhanced and more personalized customer experiences
Developing more expansive eCommerce sites and self-service capabilities
Streamlined project management tools and dynamic workflow options for each stage of a project
More frequent updates on inventory levels and location of materials
Aligning Digital Services with Customer Expectations (2021):
The COVID-19 pandemic supercharged digital transformation trends. This report is a follow-up to the section in 2019's Building a Connected Business that discussed more dynamic revenue streams. It unpacks the opportunities and steps involved in offering digital services and solutions. While it focuses on the perspectives of the contractor customer, much can be applied to other customers too.
Like other Connected Business offerings, suggestions can be tailored to match your company's objectives and scale. The report is divided into the following four sections with additional appendices (each section bookmarked for easier navigation):
Section 1: Executive Summary (22 pages)
Section 2: Digital Services Landscape in the Electrical Distribution Industry (31 pages)
Section 3: Understanding Today's Electrical Distributor Customers (25 pages)
Section 4: Considerations in Becoming a Future-Proof Electrical Distributor (45 pages)
Appendices I-IV: The appendices feature results from NAED's 2020 Value-Added Services Benchmarking Survey and selections from 2019's Building a Connected Business report
Click here to go to the online store to download your copy. To receive member pricing, please log into your member profile.
Executive Summary: Free to NAED members
Full report Member Price: $99
Non-Member Price: $699
Building a Connected Business (2019):
This offering introduced a range of ideas and capabilities to build a more connected, seamless, and efficient business. Building A Connected Business presents a business systems roadmap and timeline to help your company prioritize, plan, and implement various digital strategies. Critical capabilities and technologies to optimize processes and power growth are also outlined in 21 opportunity profiles. Download the Executive Summary here, and/or go to the online store to download your own complimentary copy of the original Building a Connected Business Report (login to the e-store and member pricing will be reflected at checkout).