OTHER RESOURCES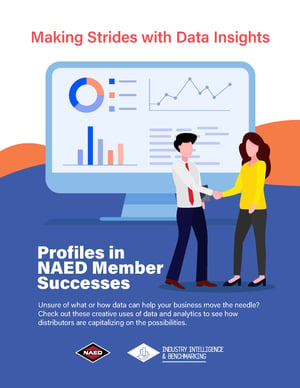 Making Strides with Data Insights
NAED distributor members contributed stories to show how their companies were able to uncover greater insights or address long-standing issues by looking more closely at solutions based on data. This series of snapshots shows the ways in which teams collaborated to effectively resolve a diverse range of problems at their companies using data tools and analytics.

Customer Purchasing Profiles
Producing a strategic vision and direction for your company is never easy. To create this vision, your team needs a clear view of where you are today and where the industry is headed.
Using your own data is good, but it only tells you how the market is interacting with your company. To complete the picture, you need market intelligence about the entire market, and Customer Purchasing Profiles from NAED is the answer.
NAED's Customer Purchasing Profiles is the only solution in the electrical industry that provides a way for electrical distributors to submit their monthly point of sale data in an easy, secure, and anonymous way, and then view their results alongside aggregate data of the market.