NAED'S

JO

URNEY

MAP OF PRODUCT DATA

HOW CURRENT PROCESSES IMPACT THE BOTTOM LINE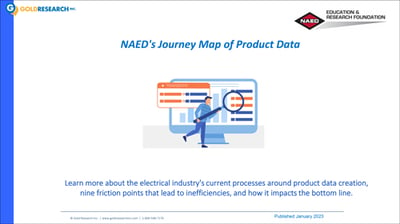 Product data is critical to the industry, but millions of dollars are lost annually due to missing, inconsistent, or inaccurate information passed downstream in the channel. To better understand why these issues persist, the NAED Education & Research Foundation commissioned the study, NAED's Journey Map of Product Data. Based on the insights and experiences of NAED members, the findings document current practices, identify key friction points, and provide ideas to optimize product data for the industry. The report includes:
An industry-exclusive Product Data Journey Map—a one-page illustration of product data creation, deployment, and use across the channel
Nine friction points and how poor product data quality impacts productivity and sales
Best practices to optimize product data creation and modifications
Next steps manufacturers and distributors can consider to improve the processes around product data to enhance communications, product data standards, and boost the bottom line.
Download the report today! As an NAED member, this report is available to you at no cost once you log into the NAED Shop to download your copy today.
On behalf of NAED, we would like to thank all of the NAED members who provided input to make this report possible. We are most grateful for your time and support. We would also like to thank the members of the Channel Advantage Partnership and members of the NAED Board for their ongoing commitment to educate and inform the NAED community.
The NAED Education & Research Foundation is focused on helping NAED companies build a more connected channel and enable capabilities that will lead to greater successes in 2023 and beyond. Look for more resources in the coming months.
---
upcoming webinars
NAED is launching a series of webinars to discuss the study's findings, detail the nine friction points, and suggest how to pave a smoother road ahead for product data that keep you from losing out on your share of that $2 billion.
The first webinar is scheduled for Tuesday, February 21 at 1pm Central time.
Product data is critical to the industry but is often a source of frustration as it must be modified or enhanced for your systems. Why is that? To better understand the reasons, NAED's Journey Map of Product Data outlines the creation and deployment of this essential information across the channel. The report identifies why there are so many bumps in the road that lead to lost sales and frustrated customers. It is estimated that at minimum of $2 billion is lost due to inaccurate, missing, or incomplete product data for the entire electrical industry.
Join NAED and Gold Research as they highlight key points of the study including nine friction points and suggestions for a smoother road ahead.
That will be followed by a second webinar on Tuesday, March 7 at 1pm Central time.
The NAED Foundation's latest study pinpoints nine friction points that slow down the optimization of product data across the channel. Inconsistent, out-of-date, or inaccurate product data are daily occurrences that results in loss of productivity and dollars.
This webinar will discuss:
How to detail out the nine friction points
Review eight best-in-class practices that have been identified to address these inefficiencies
A best-in-class product data journey map
Ways to achieve best practices to minimize frustrations and promote growth
Join NAED and Gold Research to learn more.
---
OTHER RESOURCES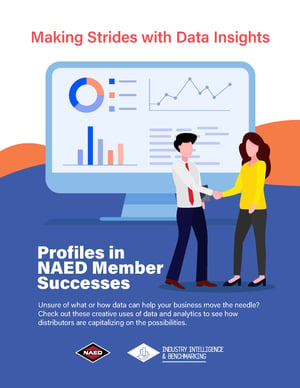 Making Strides with Data Insights
NAED distributor members contributed stories to show how their companies were able to uncover greater insights or address long-standing issues by looking more closely at solutions based on data. This series of snapshots shows the ways in which teams collaborated to effectively resolve a diverse range of problems at their companies using data tools and analytics.

Customer Purchasing Profiles
Producing a strategic vision and direction for your company is never easy. To create this vision, your team needs a clear view of where you are today and where the industry is headed.
Using your own data is good, but it only tells you how the market is interacting with your company. To complete the picture, you need market intelligence about the entire market, and Customer Purchasing Profiles from NAED is the answer.
NAED's Customer Purchasing Profiles is the only solution in the electrical industry that provides a way for electrical distributors to submit their monthly point of sale data in an easy, secure, and anonymous way, and then view their results alongside aggregate data of the market.