Contractor Perspectives on Value-Added Services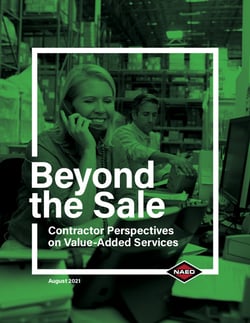 Key takeaways on which value-added services electrical contractors expect from their distributors and how they align with what is offered are featured in this executive summary. The report includes findings from NAED's Value-Added Services Benchmarking report, and a survey conducted with IEC and NECA contractors earlier this year in conjunction with the NAED's Construction Task Force.
Beyond the Sale: Contractor Perspectives on Value-Added Services is free to NAED members. Log into your profile and visit the online store to download your copy today.
2020 Value-Added Services
Benchmarking Report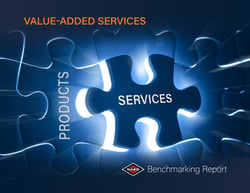 Conducted every two years, survey results benchmark the value-added services that electrical distributors currently offer to their customers. The findings reveal the significant number of services electrical distributors offer as well as the value they provide to their customers. New this year are breakouts by sales volumes and results from previous surveys. You'll also find:
Services by category including financial, inventory management, and technology
Approaches to pricing and how services are offered to customers
Increase/decrease in revenue from previous year
Thank you to the members of NAED who took the time to complete this survey. Your responses provide important insights to the industry's practices and strategies.
Download the Report [Members only; Non-members contact our Member Engagement team.]
Contact NAED's Member Engagement Team or Research Team for more information.
Primary Subject Area: Services, Sales, Operations, Customer Experience
Audience: All NAED members
Published: 2021
Member Price: $0
Non-member Price: $159.00